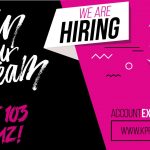 Skills:
The Carter Broadcast Group is looking for a dynamic Account Executive to sell commercial airtime, digital and station events. Candidates must have the ability to develop new business, make face-to-face sales calls, manage an account list, prioritize workassignments, meet deadlines and sales goals, write copy and deal effectively with other station departments. Strong communications skills (written & verbal), problem solvingskills, business knowledge, quick learner, open-mindedness.
Training:
Training will be provided immediately to include prospecting, cold calling,
sales presentations, negotiating, closing skills, media knowledge, event sales, web sales and coverage of topics such as agency strategy and direct client level selling.
Qualifications:
Business, Marketing or Broadcast Degree or 1-2 years of sales experience preferable. Computer knowledge, Word, Excel, Power Point (a plus). Must have your own personal automobile with a good driving record.
Contact:
Carter Broadcast Group
Attn: Victor Dyson
11131 Andrew "Skip" Carter Avenue
Kansas City, MO 64137
vdyson@kprs.com
Phone: 816-763-2040
Fax: 816-765-1254
Jobs@kprs.com
Phone: 816-763-2040
Fax: 816-765-1254