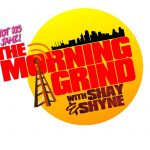 Listen to this morning's entire show, commercial free!
– Entertainment updates with The Shade
– Why You Mad Tho?
– Had a chance to speak with The Kansas City Star reporter Aaron Randle about the "Trayvon Martini" incident in Westport.
– #HotTrendingTopic Do you have concerns about alcohol home delivery? It could be coming to Missouri
– Three game suspension for allegedly knowing about domestic abuse? Is that an acceptable punishment for Ohio State head coach Urban Meyer?