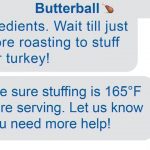 Cooking your first turkey?
Is your turkey not yet thaw?
How do you properly fry a turkey?
The Butterball Turkey Talk Line experts have the answers to these questions and more. Listen in as expert Phyllis talks turkey and how to get help in many ways from Butterball experts — including Alexa!