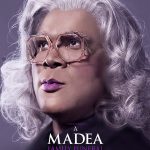 Here are the movies opening nationwide today, via ABC Air Power Prep:
A Madea Family Funeral — The 11th and final installment in Tyler Perry's Madea franchise sees a family reunion in the backwoods of Florida turn into a nightmare when Perry's titular character and her family find themselves planning a funeral instead. Cassi Davis and Patrice Lovely also star. Rated PG-13.

Also in theaters is Greta. Chloë Grace Moretz stars in this thriller about a young woman named Francis who befriends the title character — a lonely widow played by Isabelle Huppert — whose increasingly erratic and obsessive behavior has Francis trying to end the toxic relationship before it spirals out of control. Rated R.
In TV heat, for the very first time on television, Remy and Papoose introduced us to "The Golden Child"! We got to see their beautiful daughter, Reminisce Mackenzie, on The Real yesterday!

Check out the #BlackLove couple on the season finale of Love and Hip Hop New York this Monday.
Braxton Family Values returns on WE tv in April. We see Tamar making history as the first black woman to win Celebrity Big Brother — but her divorce with Vince is stalling. Trina gets devastating news about her hubby Gabe — who we now know passed from cancer. And when Toni's engagement to Birdman gets rocky, Traci steps to ol' Bird.

Tamar now says she and her ex hubby Vincent are friends now but were toxic together. According to The Jasmine Brand, she said, "Vince and I don't work together anymore but I'm glad I got my friend back. Our relationship is great. Obviously, I never thought I'd be in this situation but I think it's for the best. I think there's hope that he's happy and definitely hope for my own happiness because us together and working together was completely toxic. Our marriage had absolutely no hope after a few years of working together, the way we was working together."
Braxton Family Values returns on WE tv April the 4th. I miss their spinoff, though.
Oh yeah — the season continues Sunday on The Real Housewives of Atlanta 7pm on Bravo. Married To Medicine Atlanta, episode "Atl In La La Land" — will follow. However, Married to Medicine LA will officially premiere March the 10th.

Happy watching.