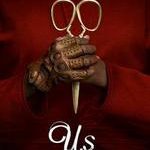 Today is the day! Us, the Jordan Peele horror movie about a family of doppelgangers, hits theaters. The film stars Lupita Nyong'o, Winston Duke, Elisabeth Moss, Tim Heidecker, Shahidi Wright Joseph, and Evan Alex.


Did you see gospel singer Le'Andria Johnson on Iyanla Fix My Life last week? It was a lot. I pray she gets it together as she battles alcohol abuse — and is surrounded by enablers. Part two airs tomorrow 8pm on OWN.

Sunday post wedding drama for Eva on Real Housewives of Atlanta. The ladies question Eva's home and real coins. Some lady Shanita spilled some tea to Marlo — who told the girls.
RHOA on Bravo at 7pm. That'll be followed by Married to Medicine LA, Jazmin confronts Dr. Imani for saying her crib look like it belongs to a dope dealer. LOL. These ladies got me dying. This franchise is growing on me.
Happy watching.