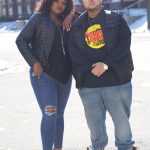 – Temperatures set to dip this weekend in the town
– 'The Shade': Nipsey Hussle's 'Celebration of Life' to air on BET, Kodak Black claims T.I. wanted "first dibs" on Lauren London, Kim Kardashian wants a career change, Porsha Williams owes over $200K in back taxes, Ertha Kitt once slapped Jackee Harry
– 'Why You Mad Tho?'
– Nipsey Hussle posthumously debuts four songs on Billboard Hot 100
– #HotTrendingTopic A guy gave his girlfriend $500 to go shopping, she spent the money on her child (that's not his). He found out and broke up with her, who is wrong?