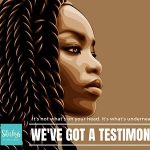 Black women, men and children should be protected from the backlash of wearing natural hair in public spaces. The Crown Act was created to do just that. As New York and California have passed similar bills regarding hair discrimination, advocates in Kansas are addressing the issue.
Democratic Senator Oletha Faust-Goudeau (Wichita) presented Senate Bill 250 in Kansas that focuses on protection against discrimination of natural styles such as afros, braid, locs, twists and the like. Michele Watley, founder of Shirley's Kitchen Cabinet, spoke to the Federal and State Affairs Committee this week to voice her support of #SB250 and its' importance. Although no action was taken (yet), she emphasizes the importance of this bill and encourages people to share their personal experience with hair discrimination. Listen to the discussion on next steps and how you can get involved to #ProtectTheCrown.
Note: Shirley's Kitchen Cabinet is a nonpartisan, nonprofit organization dedicated to amplifying the voices and power of Black women through education and advocacy, so they can be effective advocates for the issues that matter to them and the communities they serve.