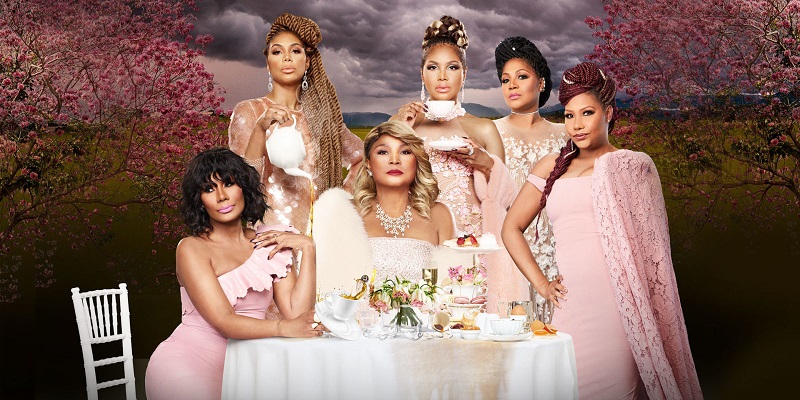 So we haven't talked about the world of ratchetivity in a minute. Let's chop it up about the latest tea.
Did you catch the teaser for the upcoming season of Braxton Family Values? It appears that Toni is indeed engaged to Birdman!
Of course, we'll see Tamar and Vince's marital drama. The show returns in March.
And we got the scoop on season seven of LHHATL. It's confirmed that former LHHNY's Erica Mena replaces Joseline.
So Erica will be hitting the studio with Stevie J. (Sidebar:  Stevie, please work not smash.)
What else do we need to know? VH1 writes:
What's going with Kirk and Rasheeda you ask? Welp, the paternity test results are in. In the case of baby Kannon (*Maury voice*), Kirk you ar…we'll just have to tune in and find out. Depending on the results, will Rasheeda stay or has too much damage been done? With one home seemingly broken, another is building as Jessica Dime is moving forward wedding planning with fiancé Shawne Williams. A destination wedding is the goal but with Shawne focusing more on his career, this future basketball wife is hoping their family is their number one priority. Tommie's past may bite her in the ass. Scrapp DeLeon is scheduled for an early release which means Momma KK is back in the picture. Last we saw her was via Skype at the Love & Hip Hop Atlanta season six reunion where she and Tommie got into it. The drama continues because now KK is close with a former friend of Tommie's and you know how she feels about loyalty. Hopefully this does not distract Miss Tommie Lee from pursuing her rap career. Lyfe didn't work out, Joc didn't work out, Ceaser of Black Ink Crew definitely didn't work out, but now Karlie Redd has moved on with writer/producer Sean Garret. Karlie's ex Joc still has the hair game on point and is looking to become a business man with the open of his newest venture, Salon Eshelon.
They'll be some newbies but it looks like Waka & Tammy may be a no go — they weren't mentioned. Mimi may have some contract issues so time will tell. Catch the season seven premiere of Love & Hip Hop Atlanta on Monday March 19th at 7.
Gear up for Momma Jones and her beloved son Jim Jones with long suffering fiancé/girlfriend, Chrissy Lampkin for season 10 of Marriage Boot Camp Reality Stars Family Edition, premiering March 9th at 8 on WeTV.
Page Six dropped dime that Bravo has participants in its reality TV shows sign an STD clause, promising not to sue Bravo if they get one of the many infections they list in the contract while filming. Supposedly, these provisions are actually the norm across all major networks–especially on dating shows. I can see that. I don't know if you knew but back in 2010, Jersey Shore creator SallyAnn Salsano told The Hollywood Reporter that producers handed out herpes meds "like M&Ms."
I wonder if VH1 should implement that, too. Especially with Donna on Black Ink.
Speaking of the ink fam, they flew to South Korea to support Young Bae in her search to find her missing mother. But in tomorrow night's episode, Sky makes it plain she ain't believing everythang.
(Photo credit: WeTV)