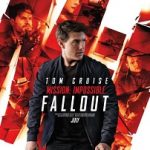 Here are the movies opening nationwide Friday via ABC Air Power Prep:
Mission: Impossible — Fallout — The sixth installment in the Mission: Impossible franchise reunites Tom Cruise with his super-spy team, including Simon Pegg, Ving Rhames and Rebecca Ferguson, this time racing against the clock after a mission gone wrong. Sean Harris, Michelle Monaghan and Alec Baldwin, also reprising their roles from the last film, are joined by newcomers Henry Cavill, Angela Bassett and Vanessa Kirby. Rated PG-13.

Teen Titans Go! To the Movies — This big-screen version of the animated TV series Teen Titans Go!, based on the DC Comics superhero team of the same name, finds the team dreaming of Hollywood stardom. It features the voices of Greg Cipes, Scott Menville, Khary Payton, Tara Strong and Hynden Walch, reprising their roles from the series, joined by Nicolas Cage, Will Arnett and Kristen Bell. Singer Halsey and rapper Lil Yachty also star. Rated PG.

Blindspotting — Daveed Diggs and Rafael Casal co-wrote and star in the comedy-drama that explores race, class, police violence, and gentrification. Rated R.

In TV heat, Kendrick Lamar will guest star on Starz' Power Sunday night. We don't know his role on this episode, titled "Happy Birthday". We'll see Tariq celebrate his first birthday since his sister Raina's murder. While on The Real Housewives of Potomac — if you watch — Grand Dame Karen Huger confronts her buddy Matt for talking about her.

I'm ready for the Monday Vh1 turn up, though. The theme seems to be marriage. On Love and Hip Hop Hollywood, Brooke reveals that she and Marcus are engaged –despite him not knowing about it.
That's at 7pm followed by Basketball Wives, where we find out if Tami gets cold feet about marrying Reggie.
(Photo credit: screenshot Mission Impossible/Bad Robot Productions)