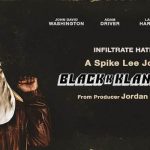 Here are the movies opening nationwide via ABC Air Power:
The Meg — This sci-fi horror film stars Jason Stratham as a rescue diver who joins a group of scientists trying to stop a giant, prehistoric Megalodon shark from terrorizing a beach. Also starring Li Bingbing, Rainn Wilson, Ruby Rose, Winston Chao and Cliff Curtis. Rated PG-13.

BlacKkKlansman — Jordan Peele produced and Spike Lee directed and co-wrote this film that's already generating Oscar buzz, based on the true story of a black police officer, played by John David Washington, who infiltrated the Klu Klux Klan in the 1970s. Adam Driver, Laura Harrier and Topher Grace also star. Rated R.

Slender Man — This supernatural horror film follows a group of teenaged Massachusetts girls who try to debunk the mystery of the supernatural internet meme Slender Man, only to become haunted by the creature themselves. Starring Joey King, Julia Goldani Telles, Jaz Sinclair and Annalise Basso, with Javier Botet as the title character. Rated PG-13.

Did you catch Kanye on Kimmel? A few times I was like, "Huh?" His answers went round and round. During the interview, Kanye talked about Trump, his bipolar disorder and the infamous TMZ interview last May.

Sunday gear up for another episode of Power on Starz at 7PM. In reality tea, part one of the Real Housewives of Potomac goes down as well on Bravo. In the meantime, Basketball Wives has moved to Sunday night on Vh-1. Word is Messy Jen punked out on being at the reunion. She was a no-show.
But you got receipts, huh? Girl, bye.
Happy watching.