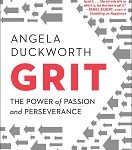 Angela Duckworth is a psychologist who at one time left a great consulting to take  a job teaching math to seventh graders in a New York public school. However, during the journey she was able to tap into why some students had more success than others — but I.Q. wasn't the only factor.
Some just had more grit.
It's a phrase we've heard uttered in most recent years. I can remember seeing an article that stated when it comes to college acceptance, many schools look at a student's grit, not just their G.P.A. So what exactly is grit?
In its' most simplest terms, grit is defined as passion and perseverance for long-term goals. While most of us have desires for our future, how does grit impact us fulfilling our ambitions? Can grit be developed? What are other contributing factors to success, alongside grit?
Angela discusses that and more in her first book,  Grit: The Power of Passion and Perseverance. Listen in as for more about this #1 New York Times best seller – and get your grit game up!