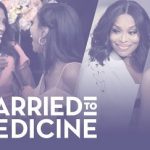 Here are the films opening nationwide on Friday via ABC Air Power Prep:
The Nun — This spinoff of The Conjuring 2, and the fifth installment in The Conjuring franchise, follows a priest and a novice who are sent by the Vatican to investigate the death of a young nun in 1952 Romania and are confronted by a demonic nun. Rated R.

Peppermint — Jennifer Garner plays a young mother, out for revenge against a cartel that killed her husband and daughter. Rated R.

God Bless the Broken Road — A financially strapped young mother struggles to raise her young daughter after losing her husband in Afghanistan. Rated PG.

In TV heat, season two of Marvel's Iron Fist is now live on Netflix.

Tonight on WeTV we'll see the return of five celebrity couples entering Boot Camp to salvage their broken relationships, including Puma and Quani from Black Ink along with LHHATL's Momma Dee and Ernest.

Tomorrow night on OWN, former Basketball Wives star Brandi Maxiell and her cheating hubby former NBA star Jason Maxiell sit down with Iyanla on Fix My Life. His infidelity and drinking is an issue.

Sunday on Starz is the season finale of Power. As the RICO case comes crashing down, Angela forms her own team to fight back with surprising allies. Also more reality drama on Bravo with Married to Medicine, as Quad deals with the fall out of rumors that her husband has been unfaithful. But umm…what about Mariah claiming Dr. Heavenly's hubby "Daddy" got a side chic? This season is already on fire after one episode! Gear up for more Sunday at 7pm on Bravo. And of course we can't forget about Black Girls Rock Awards hosted by Queen Latifah, also airing Sunday at 7pm on BET.
Lastly, the season finale of Basketball Wives airs at 9pm Sunday on Vh-1. Here's a clip where Malaysia gets ready to give it to Jen.
Judging from other previews, this ain't gonna end good for Jen. She should have kept her behind in Cali.
I gotta do a lot of DVRing this weekend and flipping back and forth!
Happy watching.
(Photo credit: Bravo and Vh-1)