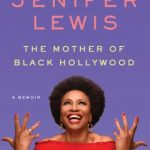 Actress, singer, dancer and now author Jenifer Lewis is the Mother of Black Hollywood!
The book of the same title is a page turner as she reveals her life.
From belting out gospel at her church in Kinloch, Missouri, search for stardom, addiction to men, and the discovery of having bipolar disorder, Jenifer tells all her tea.
But owns it.
Listen in as we talk about her journey as revealed in The Mother of Black Hollywood, and the message she wants all readers to take from her story.