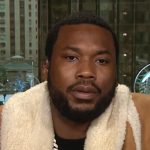 Via Pulse of Radio Prep:
Meek Mill released his album, Championships, on Friday and has had the internet buzzing ever since. In fact, a verse from Jay-Z, where he mentions Kanye West and his support for Donald Trump has made numerous headlines. He said on "What's Free," which also features Rick Ross, "No red hat, don't Michael and Prince me and Ye / They separate you when you got Michael and Prince's DNA, uh / I ain't one of these house n***as you bought / My house like a resort, my house bigger than yours / My spou- (C'mon, man)."
Jay, however, took to Twitter to deny claims that he was dissing Kanye. In a rare tweet, he said, "The line clearly meant don't pit me against my brothers no matter what our differences are (red hat) now go pick up Meek album . Drake and Meek on there together." Kanye then replied to the tweet and asked about a follow-up to their album, Watch The Throne.
Meanwhile, Meek addressed JAY's verse during a recent CNN interview. He explained that JAY wasn't coming for Kanye. Meek said, "I don't think he really goes after Kanye. I think he actually just says, 'Don't let him separate us like they did Michael Jackson and Prince,' basically. Kanye came out of nowhere and just went 'red hat,' and that was kind of like against everything we represent … I don't know what [West] represents, but coming up in the hip-hop community, we came up fighting and fighting for our rights for a long time. What that red hat represents doesn't really represent what we've been fighting for our whole lives."
Later on in the interview, Meek addressed criminal justice reform. He said, "A lot of people who go back in and out of prison are being stuck by a parole system or a probation system where not even committing crimes puts you back in prison. I learned from personal experience. I actually spent time with men that had 28 months in prison for $100 bail, and they weren't even found guilty for their crimes, and $100 kept them in prison. We as taxpayers, even myself, had to pay money to keep guys like this in prison. It was for, like, a petty crime. So things like that never made sense to me. Even being on probation – I've been on probation since I was 19 years old. I'm 31 years old. Growing up in the system, I always thought this was normal, and I didn't value myself the way that I value myself now."
Check out the chat.