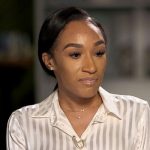 Days after being waived from the 49er's after being arrested for domestic abuse, Reuben Foster got a new gig.
The Washington Redskins picked him up.
His ex, Elissa Ennis, says she suffered a concussion after being slapped by the 6-foot-1, 280-pound linebacker. This morning on Good Morning America she says she felt slapped again when he was hired by Washington. They have a rocky history , including an incident where she recanted her story. In that instance she says:
"Because I loved him, and love will have you doin' things that's not in your best interests…I did what I had to do for the person I love. I thought that he would change."
See the whole chat below.

(Photo credit: ABC/GMA)