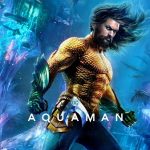 Here are the films opening nationwide today via ABC Air Power Prep:
Aquaman — The first full-length film featuring the titular character, introduced in 2016's Batman v Superman: Dawn of Justice and 2017's Justice League, stars Jason Momoa as Aquaman/Arthur Curry, heir to the underwater kingdom of Atlantis, who must step forward to lead his people to victory and save the surface world. Amber Heard, Willem Dafoe, Patrick Wilson and Nicole Kidman also star. Rated PG-13

Bumblebee — The prequel to 2007's Transformers and the sixth installment of the live-action film franchise stars Hailee Steinfeld who plays Charlie, a young girl in search of her place in the world who stumbles upon the titular character — a battle-scarred alien robot, who finds refuge in a California junkyard in the guise of a VW Bug. John Cena co-stars, along with Angela Bassett and Justin Theroux in voice rolls. Rated PG-13.

Second Act — Jennifer Lopez stars in this romantic comedy about a 40-year-old woman stuck in a low-paying job, until a private finance firm is fooled into thinking she's a high-powered consultant and hires her to handle a major business deal. Vanessa Hudgens, Leah Remini and Milo Ventimiglia also star. Rated PG-13. (Trailer contains mild uncensored profanity)

Welcome to Marwen — Steve Carell heads this film based on the true story of Mark Hogancamp, a man struggling with PTSD who loses his memory after being physically assaulted and creates a fictional village to ease his trauma. Janelle Monáe also stars. PG-13.

In TV heat, former Disney star Orlando Brown is seeking an intervention from Dr. Phil. He's dealt with addiction, mental health issues, arrests and homelessness. Here's a clip from the show, which is set to air today.

Albeit we know Michelle Williams and her pastor fiancee Chad Johnson have called off their engagement, the season finale of Chad Loves Michelle will air Saturday night on OWN.

Mrs. Birdman-to-be Toni Braxton is starring in "Every Day Is Christmas" on Lifetime. It's based on the Charles Dickens classic, "A Christmas Carol". I missed the original air date. If you did as well, catch it online through January 2nd. It'll also re-air Saturday and on Christmas Day.

Finally, this Sunday on RHOA, Shamari DeVoe and Marlo Hampton will bump heads. (Language advisory.)
Happy watching. Have a Merry Christmas and I'll talk to you next week.