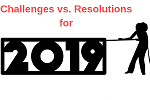 No, she's not making resolutions but I will make challenges for 2019. Challenges versus resolutions are a new trend. Here's more via ABC Air Power Prep:
When it comes to New Year's resolutions, it's really not a question of if you'll break them, but when, so why not try something different this year — a New Year's challenge. New Year's challenges are up in popularity on Pinterest this year by more than 400 percent, with users interested in these types of challenges that give step-by-step advice on how to reach your goal. Some of the pinned challenges include:
30-Day Thankfulness challenge
Mental Cleanse Challenge
Positivity Challenge
Money-Saving Challenge, How to Save $500 in 30 days
Creative Challenge
Song Challenge, 28 Days of Your Music
(Hello Giggles)
Of course, you can make anything your personal challenge. Does the idea of a setting a New Year's challenge instead of making a New Year's resolution seem more doable ? Are they more likely to stick to because they're positive things that can help make you happier versus denying yourself something? Whatever you decide, do it and give yourself some grace for the bumps along the road.
Happy 2019!