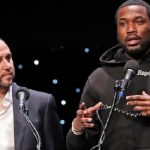 Meek Mill, who was released from prison last April after spending five months in jail for a probation violation, continues the fight for criminal justice reform. Yesterday Meek announced he's teamed up with JAY Z, Philadelphia 76ers co-owner Michael Rubin, New England Patriots owner Robert Kraft and commentator/political activist Van Jones to launch a new initiative, the REFORM Alliance.
The mission via tweets from the Reform Alliance Twitter page reads:
"The mission of the REFORM Alliance is to dramatically reduce the number of people who are unjustly under the control of the criminal justice system – starting with probation and parole. To win, we will leverage our considerable resources to change laws, policies, hearts & minds. After Meek's release, we joined forces and committed to changing mass supervision laws (probation and parole policies) that will have the greatest impact on the largest number of people."
ABC Air Power reports REFORM will work to pass probation and parole bills at the state level, and to call for comprehensive prison reform. Mill, along with the other founding members, have pledged a total of $50 million toward their goal to "dramatically reduce" the number of disadvantaged people in the criminal justice system.
Here's Meek and Michael Rubin on Good Morning America discussing this powerful movement.

(Photo credit: ABC)