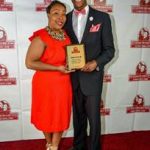 She took her pain and turned into a purpose for others. I am talking about entrepreneur, leader, mentor and community servant, Dewanna O'Guinn.
On April 23, 2012, Ashton L. O'Guinn became Kansas City's 32nd homicide. While his mother Dewanna still mourns the loss of, she keeps his memory alive through service to others with the scholarship that honors the young life that was lost.
She  launched the Ashton L. O'Guinn Scholarship Fund to assist youth and adults in their pursuit of a college degree. The Ashton L. O'Guinn Scholarship is funded by donations and the annual signature Concierge event, AO's Exclusive Red & White Affair. Mark your calendars for the red-carpet affair, taking place Saturday, April 27th. Listen in for more, including the latest scholarship deadline.