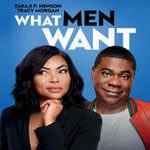 Here are the movies opening nationwide today via ABC Air Power Prep:
What Men Want — This loose remake of 2000's What Women Want follows a woman played by Taraji P. Henson who, after drinking a potion given to her by a shaman, develops the ability to hear men's thoughts. Straight Outta Compton's Aldis Hodge and Tracy Morgan also star. Rated R.


The LEGO Movie 2: The Second Part — The fourth film in the LEGO franchise and the direct sequel to 2014's The LEGO Movie picks up five years after the original, with the citizens under siege from a LEGO Duplo invaders who wreck things faster than they can be rebuilt. Chris Pratt, Elizabeth Banks, Will Arnett, Charlie Day, Alison Brie, Nick Offerman and Will Ferrell reprise their voice roles from the first movie, along with new additions Tiffany Haddish, Stephanie Beatriz and Maya Rudolph. Rated PG.

Cold Pursuit — Liam Neeson plays a snow plow driver who seeks revenge against a drug dealer he thinks killed his son in this thriller based on the 2014 Norwegian film In Order of Disappearance. Also starring Laura Dern, Emmy Rossum, William Forsythe and Tom Bateman. Rated R.

The Prodigy — This horror thriller stars Orange Is the New Black's Taylor Schilling as a mother who believes her son's strange behavior is the possibly caused by an evil, supernatural force that has possessed him. Rated R.

Sunday is music's biggest night — the Grammy's hosted by Alicia Keys on CBS. It's the first time in 14 years that a woman has hosted the show. Last year, the Grammy Awards came under fire for only featuring one female winner and not letting Album of the Year nominee Lorde — the only woman nominated in that category — a solo performance slot yet all the other Album of the Year nominees got one. Oh the shade! This is the year of the woman as five are nominated in the Album of the Year category, including my faves — Cardi B, KCK's very own Janelle Monáe and H.E.R.
Drake, Kendrick Lamar and Childish Gambino won't hit the Grammy stage. According to The New York Times, all three declined the invitation to perform at the awards show altogether. Ken Ehrlich, producer of the Grammys telecast says, "The fact of the matter is, we continue to have a problem in the hip-hop world. When they don't take home the big prize, the regard of the academy, and what the Grammys represent, continues to be less meaningful to the hip-hop community, which is sad."
Host Alicia Keys was on The Late Late Show on Wednesday. Check her out.


The 61st Annual Grammy Awards air Sunday on CBS at 7 p.m.