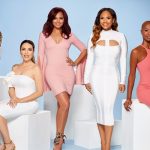 Opening nationwide in theaters today, via ABC Air Power Prep:
Wonder Park — This 3D computer animated adventure centers on a creative young girl — voiced by newcomer Brianna Denski — who dreams up a whimsical amusement park, called Wonderland, inhabited by animals. She loses her sense of imagination when her mother, played by Jennifer Garner, falls ill, but rediscovers it after finding a real-life Wonderland in the woods, and teams up with the animals to save it from Chimpanzombies and bring it back to life. The voice cast also includes Matthew Broderick, Kenan Thompson, Ken Jeong, Mila Kunis, John Oliver, and David Cross. Rated PG.

Five Feet Apart — Split's Haley Lu Richardson and Riverdale's Cole Sprouse star as two young cystic fibrosis patients who try to carry on a relationship, despite being forced to maintain physical distance from one another to safeguard their health. Rated PG-13.

Captive State — Set in Chicago nearly a decade after an occupation by an extraterrestrial force, this sci-fi thriller follows a Chicago police officer — played by John Goodman — tasked with uniting the world against the extraterrestrial enemy. Ashton Sanders, Jonathan Majors, Machine Gun Kelly and Vera Farmiga also star. Rated PG-13.

In TV heat, more drama RHOA this Sunday. We know Nene has blasted the cast. She will reveal why she snapped about folk being in her closet.
We'll also get to see more from Eva's wedding. Sunday 7pm on Bravo followed by Married to Medicine Los Angeles. We'll find out if Asha's hubby was seeing other women when they started kicking it.
Oh yeah! Did you see Pastor John Gray on The Real this week? Remember when it was rumored he fathered a child outside their marriage? He cleared things up and says he had an emotional affair.

I love the pastor but when he and his wife previously discussed the situation at church, it seemed more than that. I'm thinking about how his wife reacted. IJS. But hey — pray all is well.
Cory Booker alluded to having a "boo" in an interview with The Breakfast Club. Well, we now know for certain it is actress Rosario Dawson. She confirmed with TMZ

Meek Mill's hometown has given him his own day! Philadelphia has named March 14th "Meek Mill Day." City Council President Darrell Clarke announced the news yesterday during a city council meeting. CBS Philly reports that Meek is being celebrated for his contributions to music and criminal justice reform.

Much love to Meek. Enjoy the weekend!