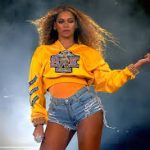 After teasing it this weekend, Netflix dropped a trailer for Homecoming, a documentary about Beyonce's historic 2018 performance at Coachella.
(Via ABC Air Power Prep)

Homecoming hits Netflix April 17th.
In other Beyonce tea, Reebok has denied reports that Beyonce walked out of a meeting due to lack of diversity, as reported by ESPN reported during a segment on Rachel Nichol's show.