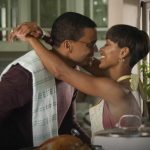 Opening nationwide in theaters Friday via ABC Air Power:
The Intruder — Michael Ealy and Meagan Good play a young married couple who buy their dream home in Napa Valley, California, only to find out that the previous owner — played by Dennis Quaid — refuses to let it go, and has a deadly plan to get it back. Rated PG-13.

Long Shot — Seth Rogen and Charlize Theron star, respectively, as a rough-around-the-edges, unemployed journalist and his childhood babysitter, who's now a powerful woman making a run for the presidency. It's Pretty Woman in reverse as she hires him as a speechwriter and sparks begin to fly. Bob Odenkirk, Alexander Skarsgård and Lisa Kudrow also star. Rated R.

UglyDolls — This animated musical comedy based on the popular plush toy line follows the free-spirited Moxy — voiced by Kelly Clarkson — as she and her friends struggle to be loved, while daring to be different. The ensemble voice cast also features Nick Jonas, Janelle Monáe, Pitbull, Blake Shelton, Wanda Sykes and Emma Roberts. Rated PG.

So Surviving R. Kelly: The Impact is the follow-up documentary to the Lifetime docuseries, Surviving R. Kelly, which aired back in January. It will air tomorrow night on Lifetime at 9. The original documentary investigated the allegations of sexual and physical abuse made Kelly who has denied all allegations of sexual, physical and domestic abuse. Soledad O'Brien will host .

Sunday on Bravo RHOA's Porsha Williams spin off, Porsha's Having a Baby continues at 7 followed by the Real Housewives of Potomac. (Language/subject matter advisory)
Since Gizelle's ex is now in the A, I sure would love to see her get a peach and joining the Georgia crew. They wouldn't be ready.
Enjoy the weekend.