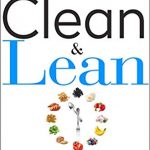 What if you could lose up to 15lbs in 30 days?
And it was cost-effective.
Plus, the plan would include good food –and meal options.
It's not too good to be true but it's becoming a new you, clean and lean!
My buddy Dr. Ian K. Smith is back with his latest book, Clean & Lean. It's based on 30 foods, eating 'clean' and intermittent fasting. If it sounds like too much, it's not. Dr. Ian breaks down this method of eating fresh, real foods that you can combine endlessly for meals and snacks – but still losing the weight.
If you're ready to get that tummy on flat-flat for summer, this is a book you don't want to miss. Listen in for more.