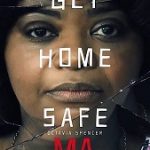 Opening nationwide in theaters Friday via ABC Air Power Prep:
Godzilla: King of the Monsters — Kyle Chandler, Vera Farmiga, Millie Bobby Brown, O'Shea Jackson Jr., Bradley Whitford and Sally Hawkins lead the human cast of this film — the third in Legendary's MonsterVerse, following 2014's Godzilla, and 2017's Kong: Skull Island — in which humans must rely on the titular giant fire-breathing lizard, to defeat the three-headed King Ghidorah, the giant insect Mothra and Rodan, who has the power to create hurricane-force winds. Rated PG-13.
Rocketman — Taron Egerton plays Elton John in this biographical musical that tells the story of the legendary rocker's rise from a prodigy at the Royal Academy of Music, through his musical partnership with lyricist Bernie Taupin — played in the film by Jamie Bell — his struggles with depression and substance abuse, and acceptance of his sexual orientation. Richard Madden and Bryce Dallas Howard also star. Rated R.
Ma — This horror thriller — one of the first horror films to feature a female, African American lead — stars Octavia Spencer as a lonely woman in a small Ohio town. She befriends a group of teenagers who ask her to buy them alcohol, but their "friendship" soon turns into an obsession, after Sue Ann invites the young people to hang out in her basement. Juliette Lewis, Luke Evans, Missi Pyle, McKaley Miller, Corey Fogelmanis, Gianni Paolo and Dante Brown also star. Rated R.
Streaming on Netflix, make sure to check out Ava DuVernay's When They See Us. It's the story of five teenagers—known around the country as The Central Park Five—who were wrongfully convicted of sexually assaulting a jogger in Central Park back in the 80s.
While the first trailer for the Netflix original series The Dark Crystal: Age of Resistance arrived Thursday.
Want some reality turn up? Don't miss the series premiere of OWN's new show, To Have and To Hold: Charlotte. It follows the real challenges couples face. It goes down tomorrow, June 1st, 9pm on OWN.