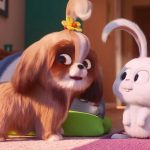 Let's see what hits theaters today via ABC Air Power Prep:
The Secret Life of Pets 2 — The sequel to the 2016 summer blockbuster The Secret Life of Pets finds Max the dog — now voiced by Patton Oswalt, replacing Louis C.K., who was fired from the project following sexual misconduct allegations — adjusting to a new roommate when his owner, played by The Marvelous Mrs. Maisel's Ellie Kemper, gets married and has a baby. Harrison Ford, Tiffany Haddish, Nick Kroll and Pete Holmes provide additional new voices, along with returning voice cast Kevin Hart, Jenny Slate, Eric Stonestreet, Lake Bell, Dana Carvey, Hannibal Buress and Bobby Moynihan. Rated PG. (The trailer contains uncensored profanity.)

Dark Phoenix — The 12th installment in the X-Men film franchise and the direct sequel to 2016's X-Men: Apocalypse stars Game of Thrones' Sophie Turner as Jean Grey, a powerful mutant whose telepathic and telekinetic powers are amplified as the result of a mysterious cosmic force that causes her to lose control and turn into the titular character. The X-Men must now decide if a team member's life is worth more than the rest of the world. The ensemble cast also includes James McAvoy, Michael Fassbender, Jennifer Lawrence, Nicholas Hoult, Tye Sheridan, Alexandra Shipp and Jessica Chastain. Rated PG-13.

Opening in limited release – not in the KC metro yet – is The Last Black Man in San Francisco.- Jimmie Fails wrote and stars in this semi-autobiographical drama about an African American man's quest to reclaim his childhood home, a Victorian house in San Francisco's Fillmore District, which was built by his grandfather, played by Danny Glover. Also starring Tichina Arnold, Rob Morgan and Thora Birch. Hopefully, it comes here soon but check out the trailer.

In reality tea, the Real Housewives of Potomac continue to have their drama in the Big Easy. It goes down Sunday at 7 on Bravo. Here's a peek.
Basketball Wives returns June 19th. Recently Evelyn Lozada was filmed reading mean tweets towards her affinity for dating ballers. I mean, she is associated with three leagues.
But E handled it #unbothered.
I am here for the turn up this season! Enjoy your weekend.