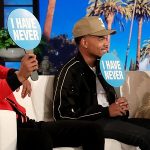 Opening nationwide on Friday via ABC Air Power:
Joker — Joaquin Phoenix plays the titular character in this film that serves as the origin story for the classic Batman villain.  The film, set in 1981, follows failed stand-up comedian Arthur Fleck who turns to a life of crime and chaos in Gotham City, assuming the identity of the Joker.  Robert De Niro, Zazie Beetz and Frances Conroy also star.  Rated R.
If you missed it, Cardi B, Chance the Rapper and T.I. appeared Thursday on The Ellen DeGeneres Show to promote their new Netflix series, Rhythm + Flow. The show premieres October 9th. Cardi ranted about what she didn't like about starring in Hustlers with Jennifer Lopez saying, "I couldn't believe that I was like on set for like 60 hours! This is what actors and actresses gotta go through." Chance gave props to her hubby Offset for convincing him to marry Kirsten Corley back in March. Chance, Cardi and TI are the primary judges on Rhythm + Flow but the late Nipsey Hussle is one of many stars appearing in the series. Here's a video from their sit down.
I have a new guilty pleasure – Love & Marriage: Huntsville Saturday Nights on OWN. If you've been watching, one of the power couples, Melody and Martell, been struggling after his infidelity. On a couples retreat, she sends him to his own room!
The new episode of Love & Marriage: Huntsville airs Saturday, October 5th 8pm on OWN!
Sunday night it's another episode of Power on Starz. This season is exhausting me a tad. Sunday's episode is titled, "Like Father, Like Son", in the aftermath of Tariq's kidnapping plot. Also Sunday on Bravo, it's more drama for the crew of Married to Medicine. The men have some thoughts on Toya's paint and sip birthday party with the naked models. But looks like Dr. Damon is in the dark. Yikes. (Heavenly, you got some explaining to do.) Meanwhile, Dr. Contessa may end up quitting school in Nashville since her absence appears to be affecting her marriage. I hope she and Scott stay good. I like them! You know how these shows can do to couples.
Anyhoo, happy watching– and go Chiefs!
(Photo credit: Ellen/ABC)