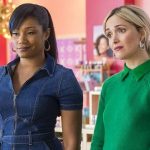 Opening nationwide on Friday via ABC Air Power:
Like a Boss — This comedy stars Tiffany Haddish and Rose Byrne as BFFs who create a trendy-but-struggling cosmetics company, which then is bought by a ruthless mogul, played by Salma Hayek. She soon swipes their ideas, setting up the underdogs to take down the makeup giant. ("Like a Boss" trailer contains uncensored profanity.)

Underwater — This deep sea drama follows a group of scientists at the bottom of the ocean who must escape a group of creatures after an earthquake destroys their laboratory. Starring Kristen Stewart, Vincent Cassel, Jessica Henwick, John Gallagher Jr., Mamoudou Athie, and T.J. Miller. Rated PG-13.

Just Mercy — This fact-based drama is based on Bryan Stevenson's 2014 New York Times best-selling memoir of the same name, chronicling Stevenson's life as a civil right activist who founded the Equal Justice Initiative, a legal center for inmates who did not receive proper legal representation. Michael B. Jordan and Jamie Foxx star respectively as Stevenson and his client. Straight Outta Compton's O'Shea Jackson Jr., Mudbound's Rob Morgan and Captain Marvel's Brie Larson also star. Rated PG-13.

This Sunday on RHOA, hopefully, we'll find out who is the mole that recorded Cynthia talking trash about Nene. 7pm on Bravo.
The final season of Empire continues Sunday night on Starz. Paz, still grieving Angela's death, seeks allies in the pursuit of justice–or vengeance. She forms an alliance with Warner. They hatch a plan to arrest Ghost for the murder of Angela. Here's the trailer for the remaining episodes of the final season – albeit Dre got fried in his cell last week.

Enjoy the weekend.