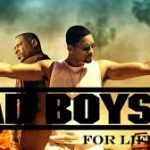 Opening nationwide on Friday via ABC Air Power:
Bad Boys for Life — Will Smith and Martin Lawrence are back for a third ride in the action comedy franchise, following 1995's Bad Boys and 2003's Bad Boys II. The latest installment finds the two detectives Mike Lowrey and Marcus Burnett reuniting once again when someone starts murdering people involved in an old case. Also starring Vanessa Hudgens, and returning cast member Joe Pantoliano. Rated R.

Dolittle — The latest reboot of the Doctor Dolittle films stars Robert Downey Jr. as the titular character — a Victorian-era physician who discovers he can talk to animals. A recluse since the death of his wife seven years earlier, he — along with his animal friends — reluctantly sets sail on an epic adventure to a mythical island in search of a cure for a gravely ill Queen Victoria, played by Jessie Buckley. The voice cast includes Emma Thompson, Rami Malek, John Cena, Kumail Nanjiani, Octavia Spencer, Tom Holland, Craig Robinson, Ralph Fiennes, Selena Gomez, and Marion Cotillard. Rated PG.

Tyler Perry's new Netflix thriller, A Fall From Grace, follows the age old story of what happens to a woman scorned. In the film, Crystal Fox plays Grace, a divorced woman who falls in love with a much younger man only to be taken advantage of by him. Phylicia Rashad plays Grace's best friend Sarah in the film. A Fall From Grace in now available on Netflix.

Robin Roberts' newest project, Stolen by My Mother: The Kamiyah Mobley Story, airs tomorrow night on Lifetime. It's based on the true story of a young woman who learns at age 18 that she was abducted as a baby and that the family she lives with is not her own. Niecy Nash plays Gloria Williams, the woman who abducts Kamiyah Mosley at a South Carolina hospital shortly after her birth.

RHOA season 12 is continuing to heighten it's drama. More to come Sunday as Kenya tries to come for Tanya Sam's man, accusing him of cheating. But Tanya may have some dirt on Kenya. The midseason finale dropped and chile, it's a lot!

Only three more episodes left of Power as we seek to find out who shot Ghost. On Sunday's episode, Tommy is on a path to avenge LaKeisha's murder, while Elisa Marie investigates what's on the USB stick given to her by her father. I still say Ghost ain't dead. Til I see a body, I stand by that.
Go Chiefs! Enjoy your weekend!