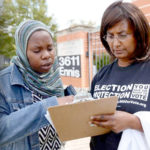 With so many changes in election laws, more than ever help is needed at the polls. Democracy only works when all eligible voters have the ability to exercise their right to vote – and every vote is counted. This is part of the mission for the League of Women Voters of Kansas City/Jackson, Clay & Platte Counties. The organization not only serves as a catalyst for voter education and engagement, but protecting everyone against voter suppression.
And if you agree that every vote matters, you can take action by serving as a nonpartisan Election Protection volunteer.
Every election year, Protect the Vote trains thousands of Election Protection volunteers across the nation – and you can serve right here in the metro! Trained nonpartisan volunteers serve as voters' first line of defense against confusing voting rules, misinformation, and any obstacles to the ballot box.
Donna Hoch, Observer Corps Chair of the League of Women Voters, shares how you can become a trained Election Protection volunteer.

(Photo: Protectthevote.net)