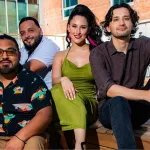 As we near the end of National Hispanic Heritage Month, Kansas City PBS is proud to present "We Are Latinos II". It's a series of three documentary shorts that will premiere weekly at flatlandkc.org on Oct. 6, 13 and 20 and air as a 30-minute broadcast on Thursday, Oct. 12th, at 7 p.m. on Channel 19.1.
We Are Latinos II, from local filmmaker Victor Antillanca, captures the powerful legacy through the lens of four Kansas Citians currently making a significant impact in the community. He points out the importance of highlighting different types of Latinos, from all generations.
You can also join Kansas City PBS for an advance film screening and a brief Q&A session with Victor. It goes down, Wednesday, October 11th, at Screenland Armour Theatre, 408 Armour Road in North Kansas City. RSVP for this free screening on Eventbrite.Listen in as Victor shares more about "We Are Latinos II".