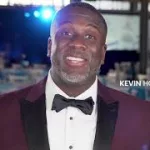 What can a pair of good, sturdy and even stylish sneakers do for a child?
A lot. And KSHB's Kevin Holmes knows from experience.
Kevin was teased by other teenagers because his sneakers were old, worn-out, and ugly. Now, Kevin is doing everything in his power so Kansas City teenagers from financially struggling families don't have to deal with that, as he and KSHB 41 are gearing up for the 3rd year of the Gift of Sole.
Tickets are on sale for the Gift of Sole Gala, taking place this Saturday at The Abbott, 1901 Cherry, 6 to 11 p.m. Enjoy an open bar, live entertainment, a plated dinner, auction and most importantly, your ticket purchase will help raise money to buy sneakers for Kansas City area teens in need. Listen in as Kevin shares more.