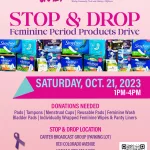 October is Domestic Violence Awareness Month. For many victims who are able to escae their abusers, they are leaving with the clothes on their back. This means they also lack essential resources, including feminine hygiene period products.
Enter in Giving Hope & Help.
Giving Hope & Help is a 501c3 nonprofit organization that supports domestic violence survivors by helping meet their needs, as they also fight to end period poverty. They collect feminine hygiene period products such as pads, tampons, menstrual cups and more to assist domestic violence survivors. Carter Broadcast Group has teamed up with Giving Hope & Help to host the 1st "Stop & Drop – Feminine Period Products Drive", this Saturday, October 21, from, 1pm – 4pm. The event will take place right here in our parking lot, located at 11131 Colorado Avenue.
Jessica McClellan, the founder and President of Giving Hope & Help shares more about Saturday's event and the organizations newest initiative to help victims of domestic violence.